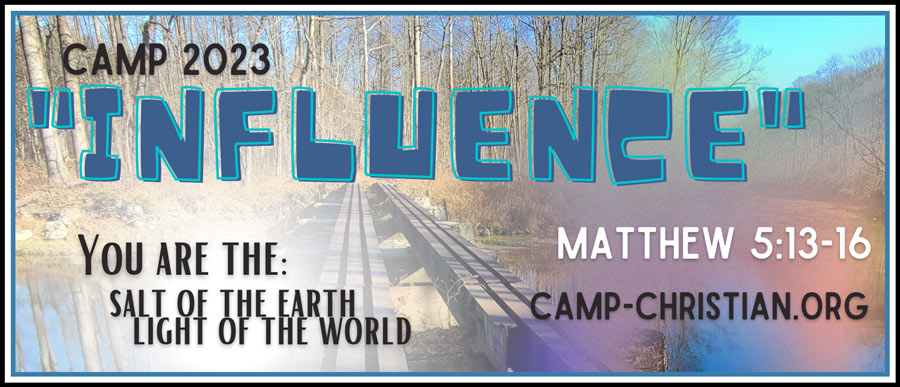 Youth Summer Programs Information
We are looking forward to our 2023 summer camp season!  You'll find helpful information here
and on the Need to Know Info page.
Campers must register for their own age group. They may attend only the week or weeks of camp that correspond with the grade that they will be entering in the fall school term. We are back to full capacity for all of our camps but please: Register Early and Bring Friends!
Registration is available online or by printing and mailing in a registration form. Campers who plan to attend more than one program may use one form for multiple programs. Completed forms and non-refundable deposits or registration fees can be mailed to: Camp Christian P.O. Box 230, Mill Run, PA 15464
---
FRIEND DISCOUNT
BACK AGAIN!!!

Bring a friend who has never been to camp and you EACH receive a discount!
All full weeks save $25 each
First Chance campers save $10 each
---
Summer Arrival & Departure
During each camp session, campers have the opportunity to visit our camp store for snacks or other items.  Snack items range from $.25-$1.50.  Clothing items start at $10.00.
At the time of registration, campers are requested to purchase STORE CARDS to be used at the store rather than using cash. Cards are available in $5 increments (Except for Day Campers*). At the end of camp sessions, any unused portion of camper store cards will be donated toward the summer mission.
*Day Campers may purchase Store Cards in $1.00 increments.
Camp Christian accepts no responsibility for lost or stolen money.
2021 Summer Missions

This year our deans will be selecting missions that are close to their hearts and we should have Christ workers that serve in a variety of areas:
Church planting ~ Outreach to Children ~ Human Suffering and Oppression ~ Community Development and Evangelism ~ Empowering the Church

Campers are responsible for their own insurance. Please list your insurance information on the registration form.
If you find that you are unable to attend after you have sent in your registration, please contact the camp office as soon as possible. We can transfer your fees paid to another program or process a refund, minus the required non-refundable deposit amount and any late fees. No refunds will be given for "NO SHOWS."
The novel coronavirus, COVID-19, has been declared a worldwide pandemic by the World Health Organization. As a result, federal, state, and local governments and agencies recommend social distancing and have, in many locations, prohibited the congregation of groups of people. We are doing everything we can to be compliant with all regulations and ensure your safety. We have put in place preventative measures to reduce the spread of COVID-19, but we cannot guarantee that you or family not become infected with COVID-19. By participating in programs, services, and activities of Camp Christian Inc, you agree to the following: On behalf of yourself and your children, you hereby release, covenant not to sue, discharge, and hold harmless CCI, its employees, agents, and representatives, of and from all liabilities, claims, actions, damages, costs or expenses of any kind arising out of or relating to your participation in our programs, services or activities. You understand and agree that this release includes any claims based on the actions, omissions, or negligence of this organization, its employees, agents, and representatives, whether a COVID-19 infection occurs before, during, or after participation in any such program, service or activity.